Hyma - Karma
Such a treaty of psychology in picture the TAROT is an interpreter which gives possibilities to the consultant to influence all the events cause indeed the cards are destined to carry a message and therefore to warn the user.
This one, instructed by the influences that surround him, will be able, in all knowledge of reason and with his free will,
to decide his Future!
Example of a question and the answer brought by the cards
Am I going to marry Mr. X?
13rd drawn carte

The force majeure of the pull

1st drawn card

5th card deducted

2nd drawn card

Consulting in relation to the question

After the realization or the failure

What is going to help or to thwart

4th drawn card

The answer à the question
Answer of the consulting card: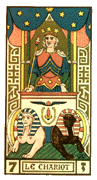 Here, him or her consultant spring with a deep desire of success and victory in his/her/its projects. indeed the card 7 (the Wagon); synonymous of victory, assure a beautiful material evolution, encourage projects, permits the victory on the events and when a consultant appears under the features of the card 7, he will be energetic, courageous, self confident and ready to defeat all obstacles to succeed to his goal.
This second card: The Wheel of Fortune, means that an important change is going to help for the realization of the wishes. Indeed this beneficial card indicates fast changes, luck, and dynamism.
It encourages the relations with the setting, accelerate the progression toward the success and a lot of others good things.
The hope and the harmony with the stars will drive to a brilliant success and to a shared love.
Besides, this very positive and understanding card brings balance, radiance, encourages friendship, affection, love, confirms happiness and joy and permits the realization of all expectations.
This card, put in fourth position, is in fact the answer to the question.
As with the stars, the Sun means brilliant success. This card facilitates the creations, confirms love, happiness and joy in the emotional relations, grants realization of the wishes and expectations, confirms prestige and an excellent possibility " to shine".
Obviously, this card, the Justice, indicates the continuation of the further events, It's here to legalize all situations. It also brings the balance and the stability.
This card represents all facts related to justice or law:
enterprises, contracts, marriage, inheritance... etc.
As a conclusion, it only remains to formulate our best wishes
to the future spouses!
Do you wish to interrogate the cards?